Tables for the 2015 show are sold out for the 20th straight year. Thanks to everyone who expressed interest in tables.
22nd Annual Fishing Show and Flea Market

January 24th and 25th, 2015
Pete Gluszek
Appearing in person at the January 24, 2015 at the Monaghan Fishing show
New for 2015!! Pete Gluszek. Co-Founder The BASS University and professional bass angler. Pete will be giving seminars on Saturday and will be on-site all day to answer your questions.
Don't miss this opportunity to learn from one of the best!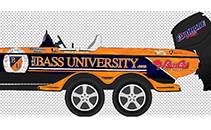 For more information be sure to check out our seminar page or petegluszek.com.
Make Plans now to attend the 2015 show!
Returning for 2015 - CastingKids. The PA Bass Federation Nation Inc. Official Bass Masters Casting Kids. Participation and Eligibility: Participation in PA States Casting Kids program is open to anyone between 7-17 years of age. The contestants will compete in three age groups,7-10,11-13,and14-17. Winners in each age group will be eligible to compete in the state Championships.
CastingKids Schedule:
Saturday - 9:00 am to 11:30 am and 12:30 pm to 3:00 pm
Sunday - 11:00 am to 2:00 pm
1st place medals for all three sessions.
There will be three age groups 7 to 10, 11 to 14 and 15 to 17. 1st thru 3rd in each age group will qualify for state championship.